Image of Ayers Rock / Uluru
Enter your search query in the box below.
Home > Australian Photos > Photograph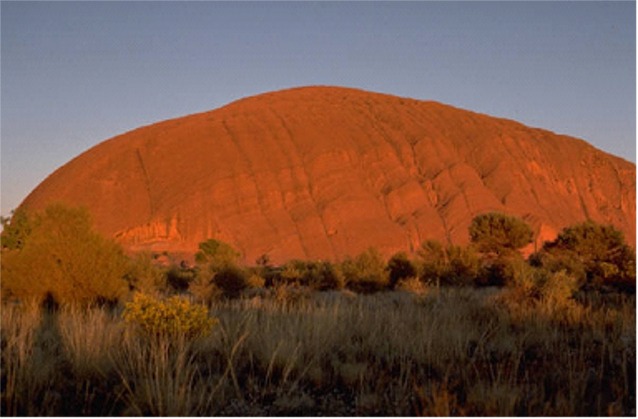 This image is protected by copyright. It may not be copied for use elsewhere.
Uluru
From Wikipedia, the free encyclopedia
Uluru (also Ayers Rock or The Rock) is a large rock formation in central Australia, in the Northern Territory. It is located in Uluru-Kata Tjuta National Park close to the small town of Yulara, 400km southwest of Alice Springs - latitude 25 deg 21' South longitude 131 deg 05' East. It is the second largest monolith in the world (after Mount Augustus, also in Australia), more than 318 metres (986 ft) high and 8 km (5 mi) around. It also extends 2.5 km (1.5 miles) into the ground. It was described by explorer Ernst Giles in 1872 as "the remarkable pebble".
Uluru is notable for its quality of changing colour as the different light strikes it at different times of the day and year, with sunset a particularly remarkable sight. It is made of sandstone infused with minerals like feldspar (Arkosic sandstone) that cause it to give off a red glow at sunrise and sunset. The rock gets its rust color from oxidation.
It is sacred to the Aborigines and has many storied springs, waterholes, rock caves and ancient paintings. Ayers Rock was the name given to it by European settlers, after the Premier of South Australia Henry Ayers. Uluru is the Aboriginal name, and since the 1980s has been the officially preferred name, although many people, especially non-Australians, still call it Ayers Rock.
Uluru is adjacent to an Aboriginal settlement, and to the tourist town of Yulara (pop. 3000). It is not far from Kata Tjuta (also called the Olgas). Special viewing areas with road access and ample parking have been constructed in order to give tourists the best views of both sites at dawn and dusk.
In 1980, baby Azaria Chamberlain disappeared while she and her parents were camping near Uluru. Her mother Lindy Chamberlain reported that Azaria had been taken by a dingo, sparking the most publicised trial in Australian history.
In 1985 the Australian Government returned ownership of Uluru to the local Aboriginal people, the Anangu, who then leased it back to the Government for 99 years as a National Park.
Climbing the rock is a popular attraction for a large fraction of the many tourists who visit it each year. A rope handhold makes the climb easier, but it is still quite a long and steep climb and many intended climbers give up part-way. There are several deaths a year as a direct result of climbing the rock, mainly from heart failure. The Anangu regard the rock as sacred and would prefer that visitors did not climb it. They have not attempted to have climbing banned, but have instead attempted to persuade visitors to respect their wishes and not do so. Also, photography of some portions of the rock, including the formation called "the Brain" is not authorized.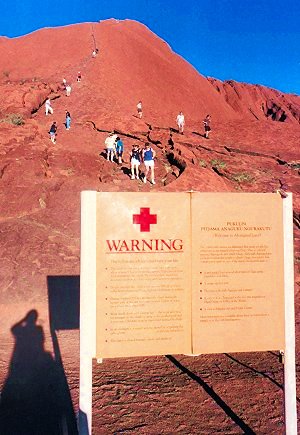 Climbers ignore warning signs at their peril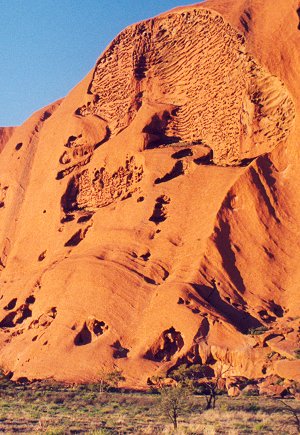 Detail of Uluru showing Skull Cave