Alfa Romeo SC Competizione
Enter your search query in the box below.
Home > Australian Photos > Sydney Motorshow > Alfa Romeo SC Competizione
Alfa Romeo SC Competizione
Alfa Romeo SC Competizione at the Sydney 2004 Motor Show in Sydney Australia. This is a concept car designed and produced by the Alfa Romeo Style centre, stands as an icon of the brand, it's very name evocative of Alfa's great motor sports tradition.
This is borne out of the code '8c' used to identify cars (racing and off road) of the Thirties and Forties equipped with the revolutionary eight cylinder engine produced by the famous designer Vittorio Jano. The second term 'Competizione' is intended as a homage to the 6c 2500 Competizione, a sports coupe driven in 1950 by the team of Frangio - Zanardi in the famous Milli Maglia race.
Cylinders: 8 90v
Timing Gear: Two overhead camshafts
Valves per cylinder: Four
Turbo charging: Volumetric Compressor
Capacity: 4244 cc (92 bore 79.8 stroke)
Max. Power Output: 298 kw at 7000 rpm
Peak Torque: 441 NM at 4500 rpm
Top Speed: 300 km/hr +
0 to 100 km/hr in 4.5 seconds
Please excuse minor errors as the details were copied from a photograph from the motor show.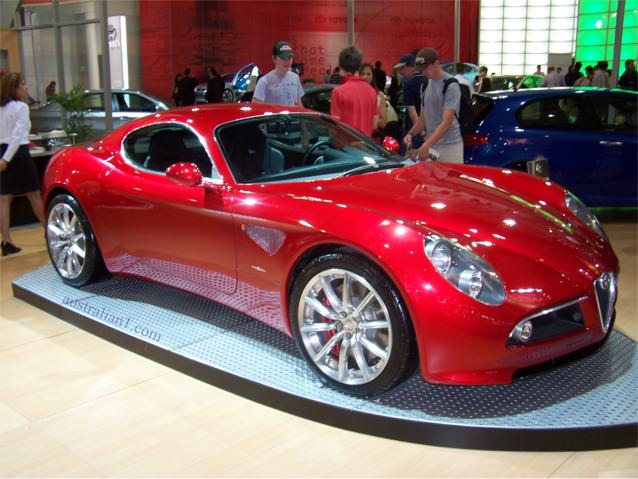 This image is protected by copyright. It may not be copied for use elsewhere.