Koenigsegg CCR
Enter your search query in the box below.
Home > Australian Photos > Sydney Motorshow > Koenigsegg CCR
Koenigsegg CCR
Price for Car: $1.25 million
The Swedish Super car CCR - 806 BHP
Body: Two door two seater with removable hardtop storable under front boot lid. The body is made of pre-impregnated carbonfibre/Kevlar and lightweight hard-foam sandwich reinforcements.
Chassis: Semi monocoque made of pre-impregnated carbonfibre and with honeycomb for added stiffness. Front and rear suspension: Double wishbones, adjustable ohlins racing gas-hydraulic shock absorbers, pushrod operated. Anti roll bar, adjustable ride height. Front and rear brakes: ventilated disks, 362 mm diameter, 32 mm wide, 6 piston light alloy callipers, power assisted, Koenigsegg advanced control system.
Engine: V8 Cast aluminium, 4 valves per cylinder, double overhead camshafts
Displacement: 4700 cm3
Compression: 8.6:1
Aspiration: Lysholm twin-screw supercharger with 1.2 bar boost
Power Output: 806 bhp at 6900 rpm
Maximum Torque: 920 NM (678 ftlb) at 5700 rpm
Performance: 0-100 km/h (0-62 mph) in 3.2 seconds
Top Speed: 395 km/h + (242 + mph)
Standing 1/4 mile: 9 seconds, end speed 235 km/h (146 mph)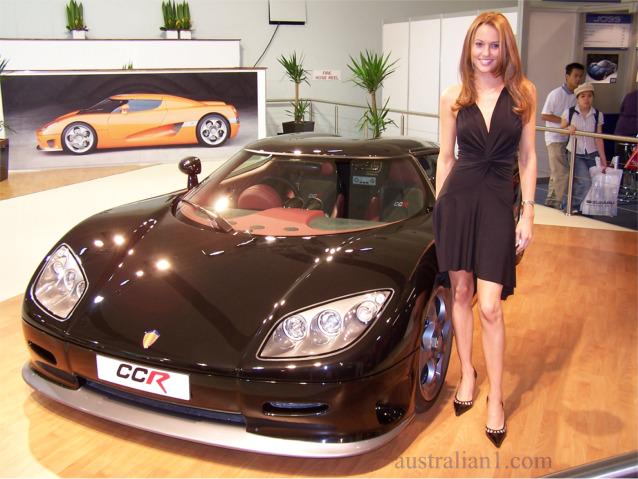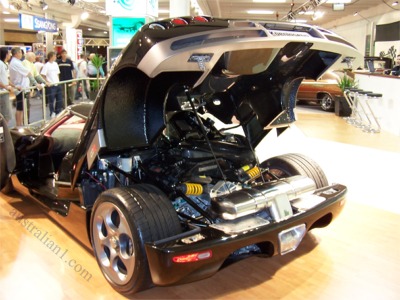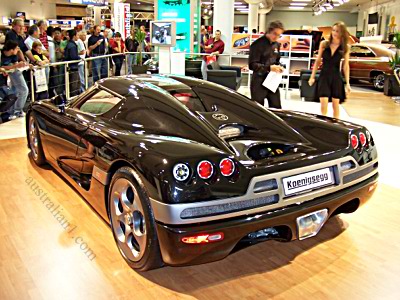 These images are protected by copyright. They may not be copied for use elsewhere.