Brisbane Australia Information
Enter your search query in the box below.
Home > Australian Information > Australian Localities > Brisbane
Brisbane
From Wikipedia, the free encyclopaedia
Brisbane is the capital city of the state of Queensland, Australia. The city's name is pronounced "BRIZ-buhn". The City of Brisbane has around 940,000 inhabitants, while the surrounding metropolitan area population is around 1.73 million.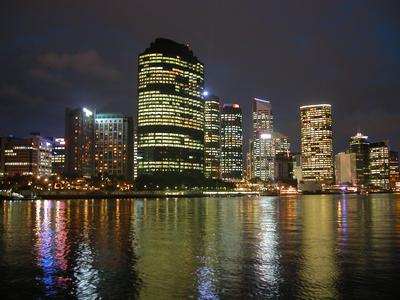 Brisbane By Night
Geography and climate
Brisbane is situated in the southeast corner of Queensland at latitude 27º28′S, longitude 153º02′E. The city straddles the Brisbane River, and its eastern suburbs line the shores of Moreton Bay. The greater Brisbane region lies on the coastal plain east of the Great Dividing Range.
Some of the major centres in greater Brisbane are:
Ipswich - Home of Queensland Rail, famous for its huge Rail workshop which lies in the city for a pleasant tourist attraction. The population has nearly doubled since 1994. Population: 129,000.
Logan City - a large growth area. Population: 171,292
Redcliffe - a beautiful mini city outside of Brisbane famous for its beaches and one of the longest bridges in the Southern Hemisphere which connects to the outskirts of the city to the Redcliffe Peninsula. Population: 51,723.
Caboolture - A large area to the north of Brisbane. Population: 115,386.
Pine Rivers - A shire associated with Brisbane. Population: 133,778
Brisbane has a subtropical climate with warm, mild winters and hot, moist summers. Brisbane is subject to high humidity, mainly from November through to April.
Some of its climatic averages:

Mean January maximum temperature — 29 ºC (85 ºF)
Mean January minimum temperature — 21 ºC (69 ºF)
Mean July maximum temperature — 20 ºC (69 ºF)
Mean July minimum temperature — 10 ºC (49 ºF)
Mean annual rainfall — 1146 mm (45.1 inches)
Wettest month on average — January, 160 mm (6.3 inches)
Driest month on average — August, 46 mm (1.8 inches)

Some of its historical extremes:

Hottest maximum temperature — 43.2ºC (109.8ºF), 26 January 1940
Coldest minimum temperature — 2.3ºC (36.1ºF), 12 July 1894 and 2 July 1896
Wettest month — 1026 mm (40.4 inches) of rainfall, February 1893
Wettest day — 465 mm (18.3 inches), 21 January 1887
Highest wind gust — 145 km/h (90 m/h)

Demographics
The estimated population of the City of Brisbane is 938,384 (as of June 2003). Together with surrounding Local Government Areas, Brisbane has an estimated metropolitan population of 1,733,200 as of 2003. Brisbane City Council is the most populous Local Government Area in Australia and is one of the largest cities in the world in terms of geographic area. Brisbane boasts Australia's highest rate of capital city population growth. The metropolitan population reportedly grew by 10.5% between 1998 and 2003.
Economy
Brisbane has a diverse and generally vibrant economy with many sectors and industries represented in the city's total production of goods and services. Both white-collar and blue-collar industries are present, with white-collar industries such as information technology, financial services, higher education and public sector administration generally concentrated in and around the Central Business District and recently established office parks in the outer suburbs. Blue-collar industries such as petroleum refining, stevedoring, paper milling, metalworking and QR railway workshops tend to be located on the lower reaches of the Brisbane River and in new industrial zones on the urban fringe.
Government
On 27 March 2004, former civil engineer Campbell Newman defeated incumbent Lord Mayor Tim Quinn in mayoral elections. Newman is a member of the Liberal Party and is only the second ever Liberal Lord Mayor of Brisbane.
The area of Brisbane city is split into 26 wards, which each elect a council member as a representative. The Lord Mayor is also elected by a popular vote, in which all residents must participate. Voting occurs every four years. Currently, the Labor Party has a majority of seats on Council, causing inevitable problems as the Labor-dominated Council and the Liberal Lord Mayor argue over policy.
History
The city is named after Sir Thomas Brisbane (1773–1860), British soldier and colonial administrator born in Ayrshire, Scotland. However before British colonisation, Brisbane was known as 'Meeaan-jin' by the Turrbul tribe. In 1823, the explorer John Oxley discovered the Brisbane River and in 1824, the first convict colony was established at Redcliffe Point. Only one year later, the colony was moved south from Redcliffe to North Quay on the Brisbane River, which is now part of Brisbane's CBD. In 1842, the area was opened for free settlement, while the convict colony was closed. By 1869 almost all of the Turrbul people had died. The few remaining survivors escaped the region with the help of the settler, Tom Petrie. When Queensland separated from New South Wales in 1859 and became a colony by itself, Brisbane was declared the capital, but it was not until 1902 that Brisbane was officially declared a city. In 1924, the City of Brisbane Act was passed, giving Brisbane a local government, which took up its work in 1925. During World War II, many US forces were stationed in the city, and it became the headquarters for General Douglas MacArthur, Supreme Allied Commander, South West Pacific Area.
Brisbane has been inundated by three severe floods of the Brisbane River — in 1864, 1893 and 1974.
Events
1982 Commonwealth Games
1988 Expo 88
1991 International Convention of Lions Clubs International
1995 International Physics Olympiad
2001 Goodwill Games
2003 International Convention of Rotary International
2003 Hosted matches during Rugby Union World Cup
2004 International Biology Olympiad
2004 International Youth Physics Tournament
Annual Brisbane Exhibition or "Ekka"
Annual State of Origin at Suncorp Stadium
Tourism
Sights to see in the city's centre include Southbank Parklands (the site of Expo 88) and the recently developed Roma Street Parklands. There are a lot of shopping boutiques in Fortitude Valley and Queen Street Mall which has good shopping. The CityCat ferry service runs along the Brisbane River from the University of Queensland's Saint Lucia campus to Brett's Wharf at Hamilton, and is an easy way to get from one side of town to the other. Brisbane is also home to:
Rock-climbing cliffs, parklands and riverside bikeways (suburb: Kangaroo Point)
The Story Bridge - A Brisbane Landmark bridge which connects the two sides of the city
Lone Pine Koala Sanctuary, which displays many native Australian animals, and where you can have your photo taken with a koala (suburb: Fig Tree Pocket).
The brewery of XXXX, one of Australia's most famous beers (suburb: Milton).
The Brisbane City Botanical Gardens near the Queensland University of Technology(QUT) at Gardens Point.
Mount Coot-tha lookout with adjacent Brisbane botanical gardens.
Other lookouts are situated on the tops of (suburb: Mount Gravatt) and Mount Petrie.
The koala parklands in the southeast outskirts where these marsupials can be seen in a natural setting. (suburb: Burbank)
The recently-refurbished (2004) Sir Thomas Brisbane Planetarium in the Mt Coot-tha botanical gardens.
Rocks Riverside Parklands, the regions largest park. (suburb: Oxley)
a number of large sporting venues such as The Gabba and Lang Park stadium.
a network of bikeways and many public swimming pools.
Brisbane is blessed with many other tourist attractions within a short travelling distance.
Landmarks
Brisbane is home of many traditional and modern landmarks, some of are Queensland icons and others resemble a great significance to specific heritage, sport or even residential standards. Here are some of Brisbane's finest buildings and landmarks.
Story Bridge - One of Australia's finest bridges and a true Queensland and Brisbane landmark. The bridge is the home of the River Festival and is beautifully lit up by night. Bridge climbs are becoming a major tourist attraction.
Central Plaza 1 & 2 - Currently Brisbane's tallest office building, and the second highest skyscraper in Queensland. Central Plaza 1 sits at 174m, 571ft and was constructed in 1988. It has been a feature landmark in Brisbane City ever since that date.
Waterfront Place - The Waterfront Place is the second tallest building in Brisbane. The tower also housesmany restaurants, cafes and bars at the ground level, the Waterfront Place is the most recognisable tower in the Brisbane skyline.
State Law Building - With its unique design, the State Law Building is known locally as 'Gotham City' because of its similarities to buildings in the Batman series.
Brisbane City Hall - The Brisbane City Hall was the most expensive building in Australia until the creation of the Sydney Opera House. At night, the Brisbane City Hall is lit up for a spectacular view.
Lang Park - Known these days as Suncorp Stadium, the stadium is the home of Queensland Rugby League and has been for many years. Recently reconstructed, the stadium is recognised as one of the greatest sporting venues in Australia and the world.
Treasury Casino - Housed, as the name suggests, in the old Treasury building, the casino has a very attractive facade which is lit up by night.
ANZ Stadium - The third largest sporting arena in Queensland (after Suncorp Stadium and The Gabba), ANZ Stadium has a great history. Historic events that have happened at the ground include the 1982 Commonwealth Games and the 2001 Goodwill Games.
The Gabba - Sporting venue for the Queensland Bulls (Cricket) and the Brisbane Lions (Aussie Rules) and was also home of Soccer matches of the Sydney 2000 Olympics.
Brisbane Exhibition Ground - Operated by the RNA (Royal National Agricultural and Industrial Association of Queensland), the showgrounds are home to the annual RNA Show, better known as the Ekka which attractions more than 600,000 visitors every year. The showgrounds are also periodically used for other large events.
Queensland Museum - Brisbane is home of the Queensland Museum which is located at the South Bank Parklands.
AMP Place - The Gold Tower is one of Brisbane's great business identities.
Riverside Centre - A modern, heritage-listed building which hosts weekend markets and is also the location of several well-known restaurants, as well as the Brisbane Stock Exchange.
Some buildings under construction, as of 2005:
Aurora Tower - This major construction will become Brisbane's tallest building once finished completion in early 2005. Featuring Residential and Commercial status, and standing at a height of approximately 207m, it will be an official landmark set by the City Council and Lord Mayor.
Riparian Plaza - The Riparian Plaza will boast some of Queensland's finest apartments and views, with its texture and quality similar to the San Siro Stadium in Milan it should be completed in March 2005.
Emerald Tower - A proposal which will lead it to become one of the tallest buildings in Australia. The height has been disputed several times and might be the main problem concerning the construction.
Vision Tower - At 246m tall it is going to be one of the tallest buildings in the southern hemisphere on completion, climbing 72 storeys above ground. It will replace the Baroque on Mary and Margaret streets which was planned to be built in the same area.
Entertainment
Brisbane has a thriving performing arts culture, housed in theatres such as La Boite's Roundhouse Theatre in Kelvin Grove, the Optus Playhouse and Lyric theatre at Southbank, the Powerhouse in New Farm, the Brisbane Arts Theatre on Petrie Terrace and the recently opened "Judith Wright Centre" in Fortitude Valley.
Brisbane's CBD, in particular the fashionable Queen Street Mall, has a wide range of restaurants, thousands of award winning Shopping Centres, Night Clubs, music and souvenirs.
South Bank Parklands is built on the former World Expo site and is famous for the firework displays it hosts at various times of the year. It is also a tourist attraction, featuring the beautiful Riverside Walkway and musical and arts festivals.
Close to Brisbane
The Gold Coast has approximately 40 km of beach, as well as theme parks, canals and mountain hinterland. It is a major tourist zone.
The Sunshine Coast is a collection of beachside cities surrounded by subtropical hinterland.
Toowoomba is a garden city located 700m above sea level on the Great Dividing Range.
Ipswich, Queensland City is a metro city located approximately 40 km South-West of Brisbane and is well known for it's Queensland Rail Workshop in the North of the town. Ipswich, Queensland is also well known in Australia for it's home of some of the worlds finest Rugby League players, some of these include - Allan Langer, Kevin, Kerrod & Steve Walters brothers'.
Media
Brisbane is served by six broadcast television stations: ABC, Seven, Nine, Ten, SBS, and community television station Briz 31.
In addition to the community radio station 4ZZZ, there are nine commercial radio stations in Brisbane: 4BC, 4BH, 4TAB, 4KQ, B105 FM, Triple M, NEW 97.3, River 94.9 and NovaFM.
The ABC transmits all five of its radio networks to Brisbane: 612 ABC, Radio National, Triple J, Newsradio and ABC Classic FM. SBS also broadcasts its national radio network to Brisbane.
Sport
Brisbane's local sporting teams are:
Basketball — Brisbane Bullets
Cricket — Queensland Bulls
Rugby Union — Queensland Reds
Rugby League — Brisbane Broncos
Australian Rules Football (AFL) — Brisbane Lions
Soccer — Queensland Lions (NOTE: The Queensland Lions will change their team name prior to the 2005 soccer season to avoid confusion with the Brisbane Lions)
Netball — Queensland Firebirds
Colleges and universities
A number of tertiary education institutions have campuses in Brisbane, or in the surrounding areas:
Australian Catholic University
Central Queensland University
Griffith University
Queensland University of Technology
University of Canberra
University of New South Wales
University of Southern Queensland
University of Queensland